PA3 Power Amplifiers
On this Page :
PA3

3-D Design
PA3

S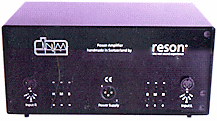 Significant upgrades are now available for DNM PA3 and PA3S power amplifiers

The PA3 and PA3S power amplifiers can be upgraded with new capacitors. The upgrade includes replacement of the main reservoir capacitors with new Slit Foil capacitors (PA3) and new Supertech 4TTN capacitors (PA3S). Both amplifiers will also be fitted with newly designed ultra-long-life local decoupling capacitors to improve performance and greatly extend the life of the amplifier.

This upgrade needs to be carried out at DNM Design. There are several possible shipping methods from different parts of the world and some owners will not have the DNM packaging needed for safe shipping.

So, please contact DNM Design on 01480 457989 or

The 40 watt PA3

stereo power amplifier
is a major departure from a conventional power amp design. A direct replacement for the classic DNM PA1, the PA3 tackles important new design issues that relate to sonic differences between the famous categories of power amplifiers-Valve, Transistor, Single Ended, Push-Pull, Bipolar, FET.

DNM worked hard to understand and control these new design parameters because the potential rewards are great, for example-- a class AB transistor design that can outperform a single ended triode or a class A transistor amplifier. This new DNM power amplifier design gives more power, higher sound quality, cooler running with increased reliability and much longer operating life--all important factors for customers who want the best sound and practical hi-fi at home.

To achieve this the PA3 uses an all-new three-dimensional circuit with ultra-tight control of its feedback surrounded by new magnetically neutral materials technology to improve dynamics and reduce the sonic signature of the amplifier's structure. This is a significant advance on conventional amplifier designs, which use flat printed circuit boards with circuits that must be tortuously routed in two-dimensions, that ignore the adverse effects of circuit generated magnetic fields and their reaction with the metal in the structure.

Mains power is supplied by a separate Primus-sized power supply box, which contains the mains transformer, fuses and switches, keeping the sound-damaging AC mains effects away from the signal circuitry.