Cable components (CC) Section




SALE - 30% off lengths of Interconnect and now SPEAKER cables

Seven reasons why you should buy DNM cables direct from DNM Design
1. DNM invented these cables, so we know the best way to handle them.
2. DNM provide detailed cable preparation information.
3. DNM can suggest cable build methods to suit your system and offer system advice.
4. DNM offer the ideal connecting plugs.
5. Cable routing advice is available from DNM.
6. Balanced XLR cables need a special cable build, advice is available from DNM.
7. Only DNM can offer in-cable HFTN filters and plug-in speaker cable HFTNs.

In 1984, DNM made the first spaced-pair solid core audio cable. During a 23 year production period it became known for its extraordinary clarity.
In 2007 DNM designed three even more advanced Stereo Solid Core Cables with both channels in one neat ribbon, possibly the best sounding cables for music reproduction, so if you love music do try DNM Stereo cables.

In the Ready to Use cable section (linked on the left hand side), DNM cables can quickly and easily be ordered fitted with plugs by DNM, ready to be plugged into your hi-fi system.

See the different cable sizes and cross-sections here.
How to order DNM cables explained here.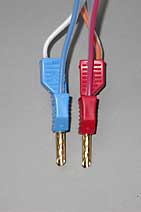 Reducing the metal content of audio plugs can help with sound quality.

We offer a choice of low metal content plugs for both interconnects and speaker cables :

Two types of phono plugs are available, low cost (now 50% off but still high quality), and Eichmann (only available with DNM HFTN filters),

DNM Specification bayonet locking DIN plugs,

4mm leaf type stackable banana plugs - now 10% off

and 2mm solid plugs (for use with DNM PA3 and PA3S power amplifiers).

To order the plugs, enter in the Quantity box the number of plug products required.
Most plug products are ordered in pairs - but DIN and XLR plugs are ordered as single items : just check the individual product details on the CC 2 Plugs page if you are not sure.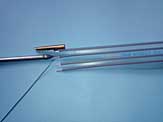 To order a DNM cable fully-built, after choosing plugs and cable, please use this section.

Why you should have your cables built by DNM
Although other companies may offer to fit plugs, few have DNM's experience with solid core cables. We assemble our cables to the highest standard to gain the most from their unique design and we charge only £12 + VAT to solder a stereo length.

To request DNM to fit the chosen plugs onto your selected length of cable, go to the "CC 3 Cable Building Service" link (after you have ordered the required length of cable and plugs).

How to order DNM cables explained here.

In the CC 3 Cable Building Service quantity box enter the number of stereo cable lengths you want to be built.
For example this would normally be 1 if you want to have one stereo length of interconnect or speaker cable made up, but if you want a bi-wire speaker cable set to be built you would need to enter 2 in the quantity box.

DNM-built 1 metre stereo interconnects are now available from just £53.38 including VAT.
To order this low cost cable choose 2 x 0.5 metre lengths of DNM stereo interconnect cable, choose 2 DNM Low Cost phono plugs and then enter "1" in the quantity box of the CC 3 Cable Building Service.

If you are unsure how your cables should be chosen or built, please use the "contact us" button at the top of this page to obtain a quote from DNM Design.
(This is particularly necessary for DNM DIN interconnects and for XLR interconnects as there are several possible wiring layouts. XLR plugs are available and details will be added to our Shop soon.)